DRUMMOND HYDE BOWDEN 1924 - 2021 (Past President of the CAP-ACP from 1989-1990)
Tue, 20 Apr 2021
DRUMMOND HYDE BOWDEN - 1924 - 2021, Past President of the CAP-ACP from 1989-1990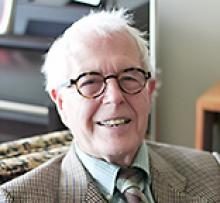 Peacefully, at 97, on April 20, 2021, at Windsor Court Retirement Residence in Fredericton.
Drummond Bowden was predeceased by his parents, Doris and Arthur, and by his wife, Joyce. He is survived by his daughter, Jane (Douglas Vipond) of Fredericton, his son, Richard (Melinda Upshur) of Toronto, and grandsons, Nick and Sam Vipond and Alex and Dylan Bowden.
Born and raised in Wales, Drummond attended medical school at the University of Bristol. He met Joyce in Bristol; they married in 1948 and immigrated to Canada in 1952. In Toronto he worked at the Hospital for Sick Children as a pathologist and researcher before being enticed to Saint Louis University in Missouri in 1956. He first worked as a clinical pathologist, and later as a member of the medical school, which allowed him more time for research. In 1964 he returned to Canada with John Wyatt to revitalize the pathology program at the University of Manitoba. He spent most of his career in Winnipeg as a researcher, teacher and administrator in the Pathology Department at the University of Manitoba. From 1981 to 1991 he was head of the department.
At the time the conventional approach in pathology was anatomy-based, but Drummond believed that cell biology was a better way to study lung injury and repair. For the rest of his career, together with his friend Ian Adamson, he investigated lung diseases induced by dust, with a particular interest in macrophages, the cells that "eat" foreign invaders. Medical Research Council of Canada grants supported the bulk of their research, which led to many publications. Drummond retired from the medical school in 1992, but continued to lecture and work with medical schools in Japan, Kenya and China.
Drummond was insatiably curious, and not just about cell biology. He was well-read and articulate. He had a strong voice and equally strong opinions, which he did not hesitate to share. He also loved the outdoors. In younger years, he was an avid hiker, wilderness canoeist and gardener. With Joyce, he established a family summer retreat in the wilds of northwestern Ontario.
After she died in 2001, Drummond moved across the country to Fredericton. Well into his 80s, he served on the board of Fredericton Heritage Trust, and was a passionate supporter of the arts - a regular presence at theatres, music venues, art galleries, and opera and ballet performances. He enjoyed independent living and entertaining in his condo before adapting to Windsor Court at age 95.
His final days were spent quietly, talking with family members, including Richard over FaceTime. He remained curious and concerned about them to the end. On his final afternoon, Jane read to him from Doris Kearns Goodwin's Team of Rivals and they discussed the place of Abraham Lincoln in U.S. history. Then he had dinner and a glass of New Zealand wine (white, dry).
The family thanks the staff of Windsor Court for their loving care.
A celebration of Drummond's life will take place in due course.
In lieu of flowers, donations to the Fredericton Homeless Shelters (www.theshelters.ca) would be appreciated.
Condolences may be directed to www.mcadamsfh.com
As published in Winnipeg Free Press on Apr 24, 2021